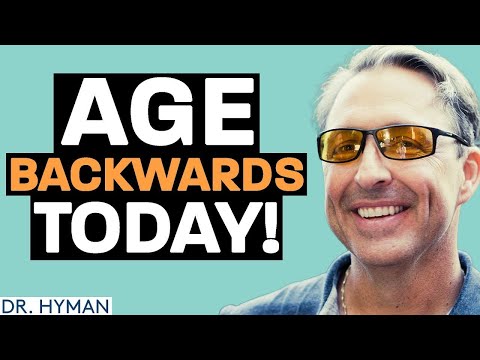 Getting older is inevitable, but aging is not. What society thinks of as aging—wrinkly skin, poor memory, weight gain, aches and pains—is actually abnormal aging, and it doesn't have to be this way.
There are reasons for these symptoms, and when we tap into the root cause we can prevent and even reverse them and feel youthful despite our age. We can do that using the principles of Functional Medicine, as well as the power of biohacking our biology. 
My guest on this week's episode of The Doctor's Farmacy is an expert in biohacking and reversing the aging process. My good friend Dave Asprey is the founder and CEO of Bulletproof 360, creator of the global phenomenon Bulletproof Coffee, a two-time New York Times bestselling author, the host of the Webby award-winning podcast Bulletproof Radio, serial entrepreneur, and global change agent. 
By employing the principles of biohacking (a term added to the Merriam-Webster Dictionary in September of 2018 with Dave's influence) Dave has lost over 100 pounds, upgraded his brain, learned to sleep more efficiently in less time, and become a more effective entrepreneur, husband, father, and overall human being. In this episode, he shares his top tips and tricks for being superhuman and living to be 180 or beyond. 
This episode of The Doctor's Farmacy is brought to you by ButcherBox. Now through October 15, 2019, ButcherBox is offering listeners of the podcast 2 lbs of wild-caught Alaskan sockeye salmon and 4 grass-fed, grass-finished sirloin steaks for free in your first order PLUS $20 off your first box. Just go to ButcherBox.com/farmacy to take advantage of this great deal.
Here are more of the details from this episode (video / audio): 
What Dave calls the Four Killers that will most likely kill us and how they can be avoided (4:25 / 8:10)

Zombie cells, cellular straight jackets, and other pillars of aging (11:05 / 14:49)

How the build up of extracellular and intracellular junk promotes aging (20:26 / 24:11)

The benefits of fasting (31:35 / 35:18)

How much movement and exercise do you really need? (38:00 / 41:45)

The importance of sleep as it relates to longevity, and why Dave uses the

Oura Ring

,

TrueDark

glasses (

Daywakers

for daytime and

Twilights

for night) and

Lifecykle's

lion's mane mushrooms to enhance his own sleep  (42:06 / 45:51)

How your mitochondrial health is affected by your relationships (50:02 / 53:47)

The role of environmental toxins and heavy metals in aging (55:22 / 59:07)

Ozone therapy and its benefits (1:07:53 / 1:11:38)

Why having an older population would not be a drain on society (1:23:01 / 1:26:46)

Dave Asprey's latest book is, Super Human: The Bulletproof Plan to Age Backward and Maybe Even Live Forever
Find Dave online at https://daveasprey.com and follow him on Facebook @bulletproofexecutive, on Twitter @bulletprooofexec, and on Instagram @dave.asprey.
I hope you'll tune in.
Wishing you health and happiness,
Mark Hyman, MD